SPRING SESSION – Campo Imperatore (AQ) 09-10 Aprile 2016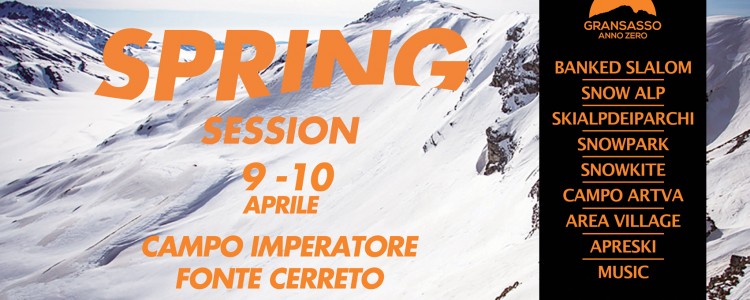 An event sponsored and organized by GranSasso AnnoZero, to be held on April 09 to 10 at "Gran Sasso d'Italia" – L'Aquila – Abruzzo Region.
The event goal is to promote sports activities related to mountain world and in particular the enormous potential of some of these disciplines in "Campo Imperatore resort area".  The Spring Session will be characterized by the presence of two high level competitions:
banked slalom
SkiAlpdeiParchi – "Gran Sasso Twin Cup"
"Abruzzo Alp Snow Trophy" – Italian Cup Final
Snowbike
You will have also a chance to do:
Lessons ski / snowboard / snowkite and much more!
Obviously, all activities will be organized and monitored by experts. But the Spring Session not only caters to fans, the aim is to involve children, families and those who want to approach the mountain. At Fonte Cerreto will also created a village that will host live music, debates and apres-ski activities.
The Spring Session is closely connected with the L'Aquila Mountain Festival held in October (and which will be repeated next October), and it is from this point of view a great chance to show the world the great wealth and variety of attractions that offer our mountains through simple activities and in perfect harmony with the environment.
Sponsor
Pictures